THE UNITED FANZINE ORGANIZATION
Through Mike Canuel and Kurt Erichsen, I learned about and was encouraged to join the UFO. This org of fanzine editors conducted its business in a monthly newsletter, to which the members were expected/required to contribute regularly. Although it later "expired" (during my chairmanship--I wasn't the greatest chairman ever), it has been revived and exists as of the time I've created this page.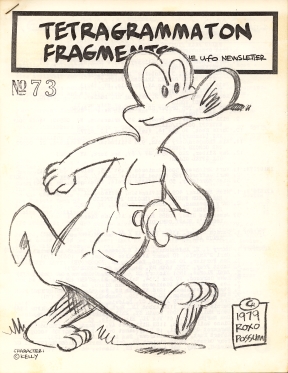 Without going at present into detail, I went out to the studio and grabbed up a mess of UFO stuff. I noted that I still have a set of folders for UFO Chairman business, a lot of loose sheets of printed material and a few back issues of Tetragrammaton Fragments!! from my tenure. There is also a box of what I imagine to be back issues from prior years. Then, over in a file cabinet where it should be is my set of back issues, some of which I got from Carl Gafford.
At left is a copy of what may have been the first issue of TF!! I published. It is listed inside as "#73 (Vol. 5, #8), July 1979." So maybe it was the 8th I published. Further research is bound to turn up--something.
Although the original Blue Plaque Publications, which was the basis for the later UFO, was based on the thinking that ditto (blue) was the natural medium of fanzines, by the time of the UFO every method got used--sometimes in the same publication. Whether the rough below right (by me) wound up as ditto or offset or was ever used at all, or even ever rendered in finished art, I do not recall.
.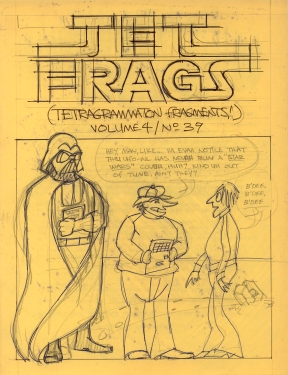 Below is the self-cover of what might be the last issue I edited. If further digging brings up another story I'll get back here and edit. It is indeed in ditto, and for this site I've edited the scan to make it more legible.

There were four active members, 3 inactive, and 14 subbers.

HE'P! #5 (my minicomic) and TF!! itself were the only member zines listed in the checklist.